Andy Rodgers
Andy has served at FBC Breckenridge since May of 2015. He and his wife Ashley have four children – AnnaKate, Anson, Avery, and Antley. It is Andy's desire to see lives changed due to the overwhelming power of the gospel. Andy enjoys spending time with his family, playing sports, listening to music, trying do-it-yourself projects around the house, and supporting the Buckaroos. Prior to FBC Breckenridge, he served as Associate Pastor of Education and Family Ministry at FBC Mineral Wells. Andy is a graduate of Hardin-Simmons University and Logsdon School of Theology.
Sarah Ray
Sarah joined our staff in June of 2022. She and her husband, Toby, have been members of First Baptist Church since moving to Breckenridge in 2018. They have two daughters, Grace & Stella. They moved to Breckenridge with a desire to live in a small town and enjoy the slow pace and wide open space.
A note from Sarah: My heart is to share the Gospel and I love working with other believers to teach children. My own family was truly changed after I made a commitment to surrender my life to God. I believe it's essential for all families to experience and devote time to community worship within a church body. At First Baptist, we are dedicated to improving the lives of children and their families, through the love of Jesus. Peace & Joy – Sarah
Sarah values the commitment to the blessing of being a wife and mother. She enjoys reading, crafting, board games, dreams of traveling, but embraces being a homebody.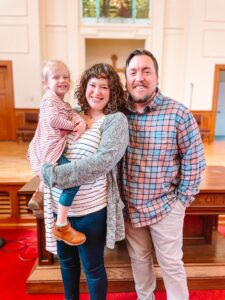 Bailey Moore
Student Minister
Bailey joined our staff in January of 2023. Bailey and his wife, Jaylan, have two children, Beatrix, and Asa. Bailey has a heart for helping students live out their faith. His hope is to see our students have a desire to walk with God faithfully throughout their lives.
He has a Bachelor's degree from Dallas Baptist University and is currently pursuing his Masters of Divinity from B. H Carroll Theological Seminary. When he is not studying, you will catch Bailey throwing discs at the disc golf course or smoking meats in the backyard.
First Baptist Church is currently seeking a
Minister of Worship & Discipleship